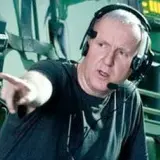 James Cameron has finally made up his mind and will next helm Avatar 2 and Avatar 3 for Fox. Just like that, Sony's dream of Cameron directing Angelina Jolie in Cleopatra in 2012 has been flushed down the toilet.
In an official announcement this morning, Fox states that Cameron hopes to move into production on Avatar 2 in late 2011 with an eye on a December 2014 release for Avatar 2 and December 2015 release for Avatar 3. A decision has not been made yet as to whether Cameron will shoot Avatar 2 and 3 back-to-back, and one will not be made until Cameron has completed the scripts sometime over the next year.
Expected to return in Avatar 2 and 3 are Sam Worthington and Zoe Saldana and Jake Sully and Neytiri, respectively, though neither has been confirmed yet. Cameron has also publicly stated that even though Sigourney Weaver's Dr. Grace Augustine character died in Avatar, a sci-fi universe always leaves the door open for any character – deceased or otherwise – to return. Per producer Jon Landau and Cameron, the Avatar sequels will show us what resides deep within the oceans of Pandora.