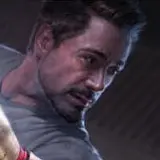 Marvel and Disney have kicked off their countdown to Comic-Con and unveiling a first-look at Iron Man 3 by delivering a piece of concept art that puts Robert Downey Jr. front and center.
In the artwork from artist Ryan Meinerding, Downey Jr. as Tony Stark has seemingly random pieces of Iron Man armor attached to him and a startled look on this face. Considering the armed unknown men approaching Stark from the rear, I don't blame his reaction one bit.
This artwork is great because it both tells so much and so little. On one hand, the armor could be our first look at the Extremis technology that will figure heavily into the plot. In the Extremis storyline, a new technology is invented that allows Stark to become more than just a man in a suit, as Captain America puts it. Nano-tech via a serum allows the armor to fuse with Stark's biological matter and create something entirely new. In effect, he and the armor are one in the same, which might be why the armor is smoking in the artwork. It could be fusing to Stark's body.
On the other hand, Stark is being approach by a bunch of armed men with no markings. Are they the law? Mercenaries? Why is Stark being targeted? We don't know, and likely won't know for some time.
Iron Man 3 will appear at Comic-Con a week from this Saturday during Marvel's panel. At the very least we hope some additional concept art is shown, if not a small visual effects-light scene from the film that is currently still in production in and around Wilmington, North Carolina.
Look for Iron Man 3 in theaters on May 3, 2013. Click the Iron Man 3 artwork with Robert Downey Jr. below for a high resolution look.
Source:
Marvel