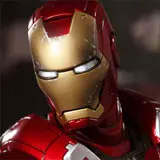 The Hot Toys The Avengers 1/6 scale action figure line is proving to be quite the seller despite the high price points. Several figures in The Avengers series have already sold out, and the latest to begin its final march toward that status is the Iron Man Mark VII Sideshow Exclusive Edition modeled after Robert Downey Jr. and including an exclusive hologram of the Mark VII armor.
Around 24 hours ago, I noticed the Hot Toys Iron Man Mark VII 1:6 scale Sideshow Exclusive figure had a low quantity alert indicating less than 70 were left available to pre-order. Keep in mind this figure does not ship until March 2013 at the earliest and carries a hefty price tag of $249.99.
This evening, Sideshow is now showing an alert indicating there are less than 40 of the figures left available to pre-order. Typically when the quantity hits zero these figures go into a "checking availability" status and then return to a "less than" number remaining pre-order for a limited time. In all cases the figure sells out not too long after this series of "less than" instances play out.
Pre-order or browse pictures of the Hot Toys Iron Man Mark VII 1/6 scale figure at Sideshow.
When Iron Man Mark VII eventually sells out, he will join these Hot Toys The Avengers figures that have also sold out. You can still get on the waitlist for each with a decent chance of the waitlist converting to an order.
Nick Fury modeled after Samuel L. Jackson
Hawkeye modeled after Jeremy Renner
My guess is Black Widow will become the next sellout in this popular Hot Toys The Avengers line.