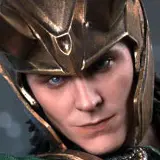 Hot Toys collectors targeting The Avengers 1:6 scale action figure line are quickly discovering the secondary characters, including Black Widow and Loki, are selling out via pre-orders faster than the core team.
The sellouts began with the first two figures made available, Nick Fury (Samuel L. Jackson) and Hawkeye (Jeremy Renner). Within the past week, Loki (Tom Hiddleston) joined the sold out ranks at Sideshow Collectibles with an option to join the Wait List as the only way to acquire one.
Typically those who join the Wait List this early on (Loki won't be released until early next year) are all but guaranteed to receive one when they do start shipping. Some people drop their orders due to finances, others to a lack of funds for the pricey high-end figures, and some people simply change their mind. Loki is one of the most striking figures in The Avengers line and is proving to be an integral part of collectors' future collections.
Join the Hot Toys Loki 1/6 scale figure Wait List at Sideshow Collectibles.
One of Loki's adversaries, Black Widow (Scarlett Johansson), is going through similar motions that Loki did just before he went to sold out status. She's bouncing around between "checking inventory" and anywhere between 10 to 50 available. Just today she went from "checking inventory" to "less than 50 available," and as of the time of this post stands at "less than 30 available" just a few hours later.
The big question is when will Black Widow shift to sold out like Loki did? My guess is sooner rather than later, but no one really knows how Sideshow's wonky pre-order systems works.
Pre-order the Hot Toys Black Widow 1/6 scale figure at Sideshow Collectibles.
As for The Hulk (Mark Ruffalo), Captain America (Chris Evans), Iron Man (Robert Downey Jr.) and Thor (Chris Hemsworth), they all remain readily available for pre-order, either due to higher production numbers or collectors being more interested in scooping up the secondary characters first.
Next up for the Hot Toys The Avengers 1/6 scale action figure line is Agent Coulson (Clark Gregg) and a Chitauri Footsoldier. Those figures aren't expected to be fully revealed and available for pre-order for at least a couple more months.
Browse images of or pre-order the Hot Toys The Avengers 1/6 scale action figure collection.