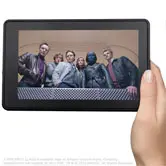 Anyone in the market for a Kindle Fire but was waiting for the right deal to come along might want to take note of what Amazon is running today.
Kindle Fire sales have been rare, but for today only, Amazon is selling certified refurbished Kindles for a mere $139.99 each. Normally these certified refurbished units, which should work just as well as a new one, sell for $170 a pop. So for today only, you can pick up a Kindle Fire from Amazon cheaper than they have ever offered it before.
To be clear, Kindle Fire is no iPad. It's smaller and not quite a robust. It is, however, a great little tablet that you can use to download apps, browse the web and, of course, watch movies off the Amazon cloud. It's the perfect partner with an Amazon Prime account that will deliver unlimited streaming of select movies and television shows. Amazon Prime members can also borrow select books for free.
Click here to buy a certified refurbished Kindle Fire for $139.99 at Amazon.com.
With free shipping and the potential for no sales tax, how can you go wrong with this Kindle Fire sale? I don't think you can.