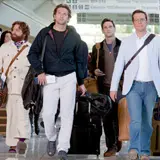 Misfortune has struck the production of Warner Bros. and Todd Phillips' The Hangover Part II which is currently shooting in and around Bangkok, Thailand.
As first reported by Australia's The Daily Telegraph, stunt driver Scott McLean of Queensland was injured during a stunt on December 17 and is currently in a coma. His car apparently collided with another vehicle, also driven by a stunt driver, at a high rate of speed.
Warner Bros. followed up the report by confirmed the second unit accident occurred near Bangkok between a car and a truck and that the driver involved was immediately taken to a hospital where he is receiving "advanced care."
The Hangover Part II stars the original's core drunken cast of Bradley Cooper, Zach Galifianakis, Justin Bartha and Ed Helms with cameos by Liam Neeson and Bill Clinton at minimum. It hits theaters on May 26, 2011.