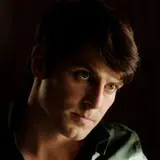 Tonight NBC takes its shot at fairy tales with Grimm, a new drama series based on the classic Grimm stories.
In the Grimm pilot premiere, Portland homicide detective Nick Burknardt (David Giuntoli) discovers he is the descendant of a group of criminal profilers called the "Grimms." Their mission is to protect the world and mankind from the mythological creatures that hide in plain daylight. As a "Grimm," Nick is able to see them for what they are, while others only see a human being.
Nick must balance his secret calling with fiance Juliette (Bitsie Tulloch) and partner Hank (Russell Hornsby), while delving more into the mysterious Grimm world with Monroe (Silas Weir Mitchell), a reformed fairy tale creature.
Grimm also features Reggie Lee (No Ordinary Family) as Sergeant Wu, and Sasha Roiz (Caprica) as Captain Renard.
NBC was probably Texas Rangers fans heading into last when when the St. Louis Cardinals pulled multiple improbable late innings comebacks to force a Word Series game 7 tonight. The Grimm premiere will now go head-to-head with the first World Series game 7 in nearly a decade, as well as similarly themed Supernatural. The premiere live ratings may now skew lower as its core demo tunes into baseball instead, but DVR viewing will likely be inflated.
Next Friday, Grimm will also be up against Fox's Fringe in the 9pm EST/PST time slot.
Below are several preview images and videos from the Grimm pilot premiere. If you're weary of spoilers then I'd recommend steering clear, especially the last video which practically walks through the entire premiere.