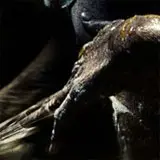 The final one-sheet for Christian Alvart's Pandorum has been unveiled courtesy of BloodyDisgusting.com.
Pandorum stars Ben Foster, Dennis Quaid, Antje Traue and Cam Gigandet in a story about two crewman who awaken on a deep space vessel to discover the 60,000 passengers on the ship have vanished and all that remains is a strange noise coming from elsewhere on the ship.
As BD notes, the slimy and brute poster imagery raises more questions than it answers. We'll have to wait until September 18 for the full scoop.
Expose yourself to or re-watch the Pandorum trailer right here.