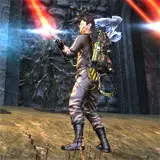 Yesterday news broke that the upcoming Ghostbusters: The Videogame would be a Sony exclusive title for PS3 and PS2 in Europe. Unfortunately errant reporting made it sound like this would be the case worldwide.
To set the record straight, Atari has issued a press release reiterating that Ghostbuster: The Videgame is coming to PS3, Xbox360, Wii, PS2, DS and PC simultaneously on June 16 in North America.
In Europe and other PAL territories, Ghostbusters: The Videogame will be published by Sony Computer Entertainment Europe and be available on June 19. The PSP version will see a worldwide release in autumn 2009.
Sony Pictures Home Entertainment will compliment the videogames by releasing the original Ghostbusters movie on Blu-ray Disc the same date.
So there you have it. Ghostbusters: The Videogame is not a Sony exclusive in North America. Recommence warming up those proton packs.