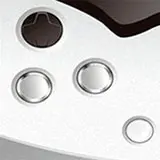 Guitar Hero and Rock Band peripherals are flooding the market at a fervent pace as the latest two installments in both series, Guitar Hero World Tour and Rock Band 2, hit stores in hopes of holiday sales gold.
It was only a matter of time before Gene Simmons wanted in on the action. He's never one to turn up an opportunity to market the Gene Simmons brand, outstretched tongue and all.
Through Hipstreet, Gene will be selling his personally designed Axe guitar replica for all versions of Rock Band and Guitar Hero on Playstation 2 and Playstation 3. It marks the first time the design has been licensed as a replica.
The wireless guitar touts 40 hours of battery life, a 30-foot wireless range, two sets of fret buttons, a strum bar, a whammy bar and Gene's superimposed autograph and mugshot.
The release date for the PS2/PS3 version is November 15 with a price of $79.99. Work is already underway for a Wii version for Guitar Hero, due December 1, a Wii version for Guitar Hero and Rock Band, due January 31, and an Xbox 360 version for Rock Band and Guitar Hero in April.
More info and ordering information is available at HipStreet