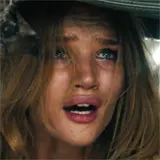 Alien tentacles and fish ships tear Chicago to pieces in the first full-length trailer for Michael Bay's effects-heavy Transformers: Dark of the Moon.
The trailer peels back a little more about the plot but still keeps quite a bit in the dark and leaves many questions unanswered. We get an idea of where the Decepticon invasion force is coming from, but it's still hard to tell if they awaken from their slumber from beneath the moon's surface or the remains of Cybertron. They do appear to use some sort of space bridge to arrive in Washington D.C., though why the big attack occurs in Chicago remains a mystery.
Noticeably absent from the trailer are Megatron and Sentinel Prime, both of whom figure to play key roles in Bay's Transformers finale. There's plenty of Optimus Prime, Bumblebee and Shia LaBeouf, though.
Transformers: Dark of the Moon opens on July 1. Watch the trailer below, then download the 1080p HD version at Apple.
>