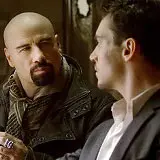 From Paris With Love starring John Travolta and Jonathan Rhys Meyers opens nationwide today as the first theatrical film to offer D-BOX Motion Control in select theaters from Lionsgate.
"This is a great start to the new year," said Claude Mc Master, President and Chief Executive Officer of D-BOX Technologies about From Paris With Love. "It's our first film with Lionsgate and already our second movie announcement this year and we anticipate the momentum to continue to increase in the months ahead."
D-BOX continues to expands its reach with the motion-enhanced seating technology installed in 13 theaters in the United States and Canada. New locations are expected to be announced throughout the year.
See if there is a D-BOX equipped theater near you, or view our Blu-ray D-BOX review archive.