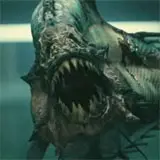 The first full trailer for Alexandre Aja's Piranha 3D has emerged with plenty of clean looks at the prehistoric fish with unusually large teeth and even bigger appetites.
Shot in and around Lake Havasu, Arizona, Piranha 3D tells the tale of previously thought extinct fish that are brought to the surface from an underwater lake cavern by an earthquake. Of course they come afloat at the same that spring breakers hit the lake with plenty of booze and silicon enhancements, but not so many braincells.
Starring in Piranha 3D are Elisabeth Shue, Adam Scott, Jerry O'Connell, Ving Rhames, and Richard Dreyfuss in a role inspired by his performance in Steven Spielberg's Jaws. It swims into theaters on August 27.