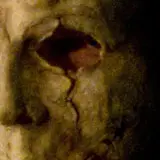 Dimension Films has passed along the first official high resolution photo of Michael Myers (Tyler Mane) as seen in Rob Zombie's Halloween sequel, H2.
What you see below is actually a thumbnail which when clicked will bring up a much larger version. Not that you need or want to count the hairs protruding through the bottom of Michael's mask but at least the opportunity is now available.
If you haven't already, be sure to check out the first and currently only H2 trailer.