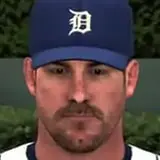 2K Sports has finally released the first trailer for MLB 2K12 just a little over a month away from the game's release.
Featuring ace Justin Verlander of the Detroit Tigers, the MLB 2K12 sends a message to rooks that Justin means business. The rook on the wrong end of a strike three call is an example of the My Player mode where players take control of a minor league rookie and bring him up through the ranks.
MLB 2K12 arrives in stores on March 6 and will be available for Xbox 360, Playstation 3, Nintendo Wii, PC, DS and PSP. Like last year, 2K Sports is offering a $1 million pot to the first player who can proven they pitched a perfect game.
Click here to pre-order MLB 2K12 on the platform of your choice at Amazon.com.