The pre-Comic-Con goodies continue this morning with the first look at Ryan Reynolds as The Green Lantern!
The image comes from the cover of Entertainment Weekly who is running their annual Comic-Con preview typically full of first looks. The suit, which will be created in post-production with CGI, almost looks like green muscle with the glow from the ring flowing through it – similar to how energy flows through the Tron Legacy suits. The image confirms Reynolds will (at least at some point in the film) wear the green eye mask which covers most of his nose.
EW's write-up talks about how Hal Jordan is "cocky" which based on Reynolds turn as Deadpool in X-Men Origins: Wolverine should be right up his alley. We've practically seen how he'll likely behave already.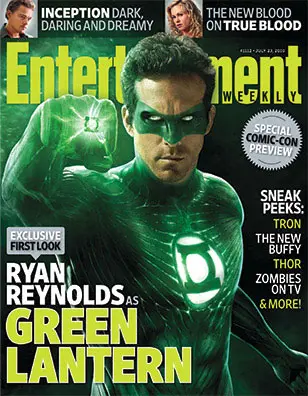 Reynolds also talks about what the ring is capable of, which seems like pretty much anything. "Will and imagination are his superpowers," he said. "We need a circus of Timothy Learys to think of things Hal would invent with his ring."
Comic-Con is expected to produce the first footage from The Green Lantern in roughly one week's time.
Source: EW