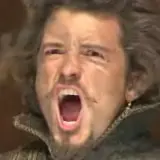 Entertainment tonight has a new behind-the-scenes segment up with Orlando Bloom as he films scenes for next year's The Three Musketeers.
This first footage seen from the film shows Bloom as the Duke of Buckingham throwing a maniacal tantrum in a burning building. He won't wield a word, but the hair alone would be enough to take out any Musketeer or even his Pirates co-star Johnny Depp in full-on Jack Sparrow regalia.
What you won't see in the footage below are the other stars: Logan Lerman as D'Artagnan and Matthew MacFadyen, Ray Stevenson and Luke Evans as the Musketeers Athos, Porthos and Aramis, respectively. That first look is being saved for a later date.
The Three Musketeers is coming to theaters in 3D on October 14, 2011.