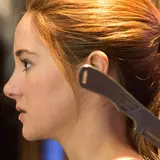 After a brief sneak peek on Jimmy Kimmel Live! last night, today Summit Entertainment unleashed the final theatrical trailer for Divergent that is based on the best-selling young adult novels by author Veronica Roth and features a bird attack and swimming, amongst other new looks at the film.
It's impossible to overlook The Hunger Games similarities both in style, genre and casting as star Shailene Woodley is tasked with following up the performance and box office success that Jennifer Lawrence delivered as the franchise's unlikely heroine. Like The Hunger Games, Divergent has a massive built-in audience from the books, so its success will rest squarely on whether it can tap into audiences beyond the core 14-18 demographic.
Divergent is directed by Neil Burger and also features Theo James, Kate Winslet, Miles Teller, Jai Courtney, Ansel Elgort, Ray Stevenson, Zoe Kravitz, Ashley Judd and Maggie Q. It is set for release on March 21 at cinemas and IMAX.