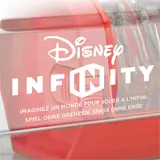 PDP will be the exclusive manufacturer of accessories for the Disney Infinity video game and accompanying toy line. They have officially revealed a number of products to support the game's launch in August, which are outlined below.
The core PDP Disney Infinity line starts with a three-pack of figure display cases for $14.99. These packs are modular and stackable, and include a clip to hold the Disney Infinity web code cards for each figure.
A Disney Infinity Power Disc Capsule will hold any combination of 22 hexagon or circular Power Discs total. Also included in the $9.99 price are two Power Disc bands that hold a pair of Power Discs together.
The Disney Infinity Power Disc album holds 20 total Power Discs and has been designed specifically to hold the Power Discs for wave 1.
For $19.99 you can order the Disney Infinity Play 'N Store designed to house and stack figures and Play Sets. This solution will fit the most number of Disney Infinity toys into the tightest space. Includes 2 bins.
The Disney Infinity Play Zone is a carrying bag that folds out with a mat to place the game's Base, toys and Power Discs on. The case holds 17 figures, 3 Play Sets, 20 Power Discs, and web code cards.
Those who want to keep their Disney Infinity base looking pristine can pick up a Base Protector for $9.99. This plastic encases the base and can be personalized with an insert depicting numerous characters featured in the game.
According to the Toys R Us website, PDP and Disney have partnered with the retail giant to offer a number of Disney Infinity exclusives. We're still checking on specifics and will post a new article once additional information is gathered.