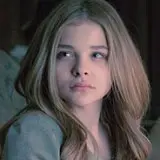 Chloe Moretz won over MGM, Screen Gems and director Kim Peirce during her audition for the lead role in the remake of Stephen King's Carrie, earning a formal offer from the studio to assume the part.
Once the deal is closed, and it is expected to get done, Moretz will play the iconic role of high school student Carrie White. As the story based on King's 1974 novel, the subsequent Brian DePalma film and and made-for-TV movie went, shy Carrie discovers telepathic powers while living with her fanatical mother. When she becomes the target of a practical joke at the prom, Carrie fights back with deadly repercussions.
According to Deadline, MGM had been meeting with numerous young actresses over the past several weeks, in search of the perfect girl to embody the emotionally complex role. In addition to Moretz, Dakota Fanning is said to have read for the part.
Ultimately Moretz won out, further solidifying her position as one of the hottest and most capable actresses working in Hollywood. After breaking through in Kick-Ass, Moretz has gone on to star in Let Me In, (500) Days Of Summer, Hugo and Tim Burton's upcoming Dark Shadows. Moretz turned 15 this past February.
In Carrie, Moretz will have an opportunity to earn an Academy Award nomination as Sissy Spacek did from the original film. Piper Laurie also earned a nomination for her performance as Carrie's mother.
Once Moretz wraps up her deal, the studio is expected to begin rounding out the other key roles in the film, including Carrie's mom.
Carrie is expected to begin production a little later this year and arrive in theaters sometime in 2013.
Source: Deadline