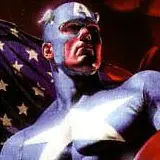 Several frontrunners for the role of coveted role of Captain America have emerged as director Joe Johnston's self-imposed date for casting the alter-ego of Steve Rogers rapidly approaches.
Per The Hollywood Reporter, the following mostly television actors have already either completed a screen test for Johnston and Marvel or will be doing so within the next few days: John Krasinski (The Office), Michael Cassidy (Smallvile), Patrick Flueger (The 4400), Scott Porter (Friday Night Lights), Wilson Bethel (Generation Kill) and Mike Vogel (Cloverfield).
Johnston is also courting these actors those scheduling conflicts have prevented them from screen testing thus far: Chace Crawford (Gossip Girl) and Garret Hedlund (Tron Legacy).
Not included on the list are previously rumored for the role actors Ryan McPartlin (Chuck's "Captain Awesome") and Jensen Ackles (Supernatural).
Though making it to the screen test phase bodes well for all the actors' odds of starring in Captain America: The First Avenger, it by no means translates to the chosen one coming from this lot. Thor's Chris Hemsworth was selected from an audition reel after being passed over for a screen test. McPartlin, Ackles or someone whose name has yet to be attached could be cast out of left field.