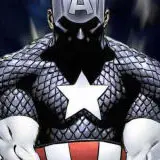 I was beginning to think Marvel had forgotten all about Captain America: The First Avenger. It hits theaters a little over two months after Thor, yet Thor is well into principal photography while Captain America is still without a cast.
In speaking with Sci-Fi Wire, Captain America director Joe Johnston provided an update on the search for the actor to play Steve Rogers and revealed a late June start date to filming.
"We need to cast it soon," Johnston said in regards to his star. "We have a very short list, but we're still juggling actors here. I'd say within the next couple of weeks we'll have ourselves a Captain America, I hope."
The role of Steve Rogers will be a difficult one to fill. Whoever is chosen will have to start as a 98lb wimp and then transform into the perfect physical human specimen. Everyone on that short list had best be hitting the gym, and hard.
Joe also confirms shooting is likely to take place in the U.K. and pre-production remains in the early stages.