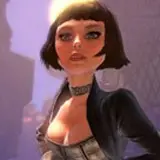 BioShock Infinite has a finalized October 16 release date, ending months upon months of speculation on when Irrational Games would wrap up the hotly anticipated sequel.
Ken Levine and his team have been working on BioShock Infinite for roughly four years and the results are already looking amazing. By taking the franchise from the depths of the ocean to the sky, the world of BioShock has limitless possibilities.
For more on BioShock Infinite, check out the announcement of Hardcore mode, the latest batch of screenshots, last summer's awesome trailer, and my thoughts on how BioShock Infinite is as much a new IP as a sequel.
BioShock Infinite will be available on launch day for Xbox 360, Playstation 3 and the PC. International sales will begin a couple days later on October 19.