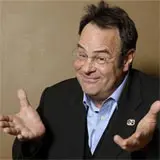 Bill Murray's lack of involvement with the sequel project that seems more like an apparition, Ghostbusters 3, has been publicized as part of the reason the film has had trouble moving out of development hell. A new revelation could see the Peter Venkman character going the route of Jack Ryan rather than holding up the show.
In speaking with Empire Magazine, Dan Aykroyd addressed the status of Ghostbusters 3 and, more specifically, Bill Murray's involvement. He also talked about Rick Moranis being worked into the script and whether the script is ready for primetime or not.
According to Aykroyd, he keeps in touch with Murray on a personal level and the actor's stance on a second Ghostbusters sequel "has been made clear." Murray has not shredded the script per rumors, but instead respectfully has no interest in playing a much older and fatter Peter Venkman.
Rather than put the brakes on Ghostbusters 3 due to Murray's disinterest, Aykroyd instead suggested that the role could be recast ala Jack Ryan. I've tried to imagine anyone spewing one-liners as Peter Venkman and simply cannot. Bill Murray is Venkman and I'd rather see the character written off as having died than be recast.
Regarding Moranis, Aykroyd says if they can get the script right then the dorky Ghostbuster would be a "major component" of the film, that "none of us [them] would want to do the movie" if he weren't involved.
If "get the script right" rang a bell then you're on the right track. Aykroyd admits the Ghostbusters 3 script isn't perfect yet and there is still more work to do. Considering this project has been bouncing around for years as the original Ghostbusters have continued to age, is it even possible for Dan Aykroyd to achieve perfection without Bill Murray? I don't think so.
Source: Empire