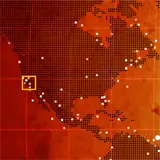 Sony has updated the official website for Battle: Los Angeles with some new images and video snippets of attacks happening around the globe.
An interactive map shows hot-spots in Los Angeles, Rio de Janeiro, Barcelona, London, Paris, Hong Kong, and Sydney which can each be clicked on to reveal a short (as in 2-10 second) clip of an alien attack in-progress. The footage is grainy and difficult to make out but there's definitely some cool stuff to see worth taking a few moments to uncover.
The map also has a "past sightings" mode that lets you download images of alien sightings as well as jump to Wikipedia pages describing what happened.
Battle: Los Angeles stars Michelle Rodriguez, Bridget Moynahan and Aaron Eckhart. The alien invasion begins in theaters on March 11.
Visit the official Battle: Los Angeles website.