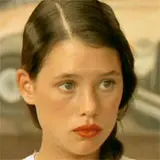 Young yet experienced French actress Astrid Bergès-Frisbey will make her American big screen debut with a big splash.
Disney has announced Astrid will star in Pirates of the Caribbean: On Stranger Tides (Pirates of the Caribbean 4) as Syrena, a "beautiful and alluring young mermaid" who serves a key role in the film. She was selected by producer Jerry Bruckheimer and director Rob Marshall for the part.
Astrid's film credits include La Fille du Puisatier, Bruc, Extase, La Premiere Etoile and Un Barrage Contre le Pacifique, as well as numerous roles in television films.
Pirates of the Caribbean: On Stranger Tides also stars franchise vet Johnny Depp as Jack Sparrow and newcomer Penelope Cruz. It will begin shooting this June on-location in Hawaii, Great Britain and Los Angeles and then come ashore in theaters on May 20, 2011.