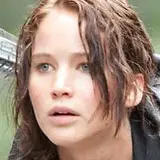 Another second worth of footage from The Hunger Games is online thanks to MTV's milking of their VMA exclusive with all hands on deck.
The fleeting glimpse from the film, embedded in a lengthy MTV promo, features Katniss Everdeen (Jennifer Lawrence) in the wooded arena, in full arena combat gear, running for her life. What she's running from may or may not be revealed in the full clip. If it's just more of Katniss looking and running around then a lot of fans will be cursing MTV's countless articles pumping up the event.
If you really must see this first clip from The Hunger Games then tune in tonight at 9pm EST/PST and catch Lawrence introducing and debuting it during the Video Music Awards. It will be online in countless places seconds after airing so you don't have to sit through MTV's scream fest to catch it in a timely manner.
The Hunger Games opens in theaters everywhere on March 23, 2012.