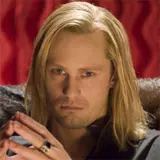 On HBO's True Blood, Alexander Skarsgard plays the 1000-year old vampire Eric Northman. In an upcoming theatrical starring role, he'll get the chance to play out the part of Eric prior to him first being bitten.
Per Variety, Warner Bros. has picked up a pitch by Chris Boal and Atlas Entertainment for a viking film that will star and be produced by Skarsgard. The working title for the project is The Vanguard and it will follow a pair of viking brothers who embark on a journey back to Sweden after being banished to North America for reasons unknown at this time.
Skarsgard would play one of the viking brothers, but other details about the pitch are being kept under tight wraps. Boal will next write the script which Warner Bros. hopes to turn into a tentpole project in the same vein as Braveheart and Gladiator. Both of those films are rated R.
Prior to his vampire life on True Blood, Skarsgard's character Eric was a formidable viking warrior. He played out the part in a flashback sequence in an earlier season of the show.
Source: Variety