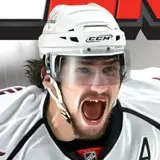 The Washington Capitals will be second-guessing themselves all summer for blowing a big playoff lead against the eventual Stanley Cup Champion Pittsburgh Penguins.
One Capital, Alex Ovechkin, will have something else on his mind to help reduce the sting. He's officially signed up to be the cover boy for 2K Sports' NHL 2K10 videogame.
"Ovi," as he's known to fans, will participate in the first-ever outdoor motion capture session to put himself into the game. The sessions takes place tonight, June 16, at Roman Plaza at Caesars Palace in Las Vegas from 8:30-11:30pm PT. Joining Ovi will be Ryan Kesler of the Vancouver Canucks and San Jose Sharks play-by-play announcer Randy Hahn, who will act as host MC. Sadly only media will be allowed to witness the event.
NHL 2K10 is expected in stores this October for Playstation 3, Xbox 360, Nintendo Wii and Playstation 2. You can view covers for the PS3, 360 and Wii versions below.