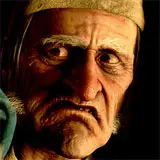 A Christmas Carol unsurprisingly topped the weekend box office with an estimated $31 million in receipts.
The latest foray by Robert Zemeckis into motion-capture filmmaking came in lower than initial expectations but easily bested the $23.3 million open by The Polar Express, his last holiday CGI film. With the holiday season only now ramping up, A Christmas Carol should continue to play strong for weeks to come.
Joining A Christmas Carol as newcomers crossing the $10 million opening weekend mark are The Men Who Stare at Goats starring George Clooney and Ewan McGregor with $13.3 million and The Fourth Kind starring Milla Jovovich with $12.5 million. None of those could top Michael Jackson's This Is It which scored second place with $14 million.
The other newcomer, The Box, failed to cross $10 million with a $7.9 million gross. It was edged out by Paranormal Activity which added another $8.6 million to brings its domestic tally to $97.4 million overall.
The complete weekend box office results for November 6 – 8 are as follows:
1. A Christmas Carol (2009): $31m
2. Michael Jackson's This Is It: $14m
3. The Men Who Stare At Goats: $13.3m
4. The Fourth Kind: $12.5m
5. Paranormal Activity: $8.6m
6. The Box: $7.9m
7. Couples Retreat: $6.4m
8. Law Abiding Citizen: $6.2m
9. Where the Wild Things Are: $4.2m
10. Astro Boy: $2.6m
Next weekend will see Roland Emmerich decimate cities again in 2012 which opens on over 3,000 screens. The comedy Pirate Radio will see a smaller wide release on 900 screens.
Be sure to check in on Tuesday as we kick off the next round of the weekly Weekend Box Office Prophet game where you can predict what 5 films will make from Friday through Sunday.