This week's bad news that a new Star Wars: Episode VII – The Force Awakens trailer won't be coming to D23 was quickly offset earlier today with EW unloading a landslide of new Star Wars Episode 7 tidbits and imagery onto an unsuspecting Internet audience.
EW's information and media dump was to promote The Force Awakens cover story that takes up a good chunk of their most recent issue that just his newsstands. Most of what is in the physical edition was also released online so let's revel in the 12 new Star Wars: The Force Awakens images while the wait for the trailer continues.
A few of these images were shown on select audiences before, such as at Comic-Con or Celebration, on a giant screen as part of a slideshow. For example, in the case of General Hux (Domhnall Gleeson), the EW version is much cleaner than the bootleg version floating around the web.
Thanks to EW and this generous photo gallery, here we go with my comments about where these images fit into the film based on numerous Star Wars: The Force Awakens spoilers floating around.
Spoilers and speculation follow so proceed with your own risk.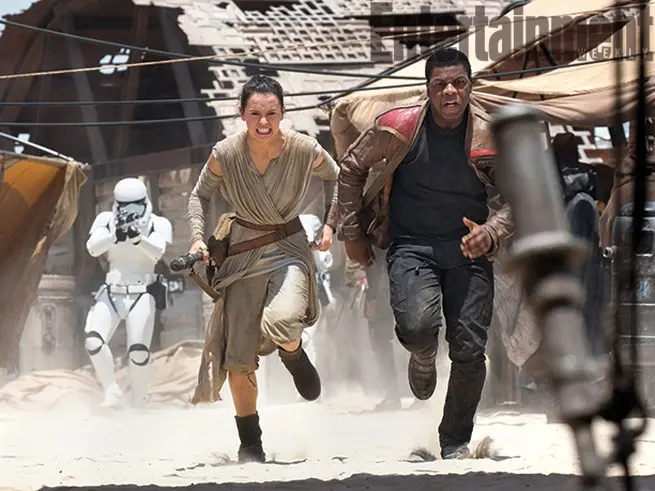 Finn and Rey are on the desert planet Jakku and on the run from First Order stormtroopers. Notice that Rey is armed with her staff. I wonder if we'll get to see her defend with it?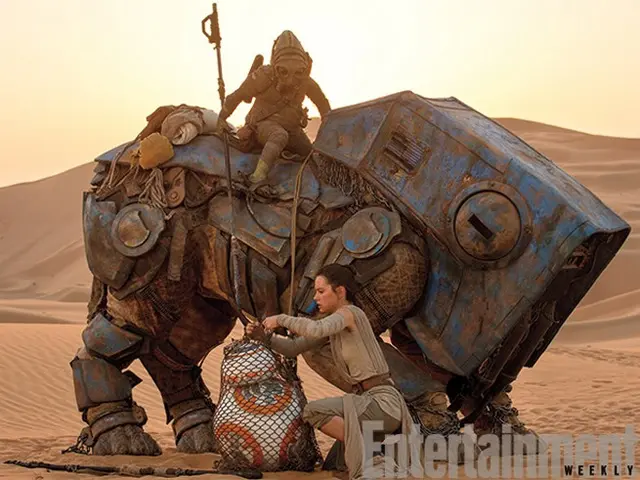 Rey has caught up with a desert scavenger that has captured the ball droid BB-8. As she frees her little friend, we marvel at the live-action prop of a massive beast covered in armor that looks like The Force Awakens version of a Dewback.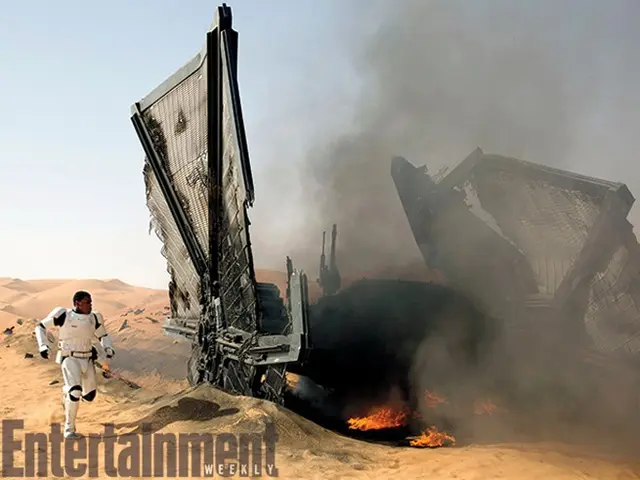 Stormtrooper deserter Finn (John Boyega) looks to be racing toward the crashed Tie Fighter that he and presumably Poe Dameron use to escape a Star Destroyer before they are shot down. I suspect he's looking for Poe who is already long gone, thus Finn will end up shedding the armor and crossing paths with Rey.
Director J.J. Abrams talks to Daisy Ridley (Rey) as she stands atop a familiar chunk of metal. That debris is clearly the leg of an AT-AT Walker that many suspect is where Rey makes her home — inside the Empire's downed walker's body.
General Hux, who somehow rose to a position of great power at a young age, is anxious to show off the might of the First Order to the rest of the galaxy. He's got a cool new weapon at his disposal to do so with.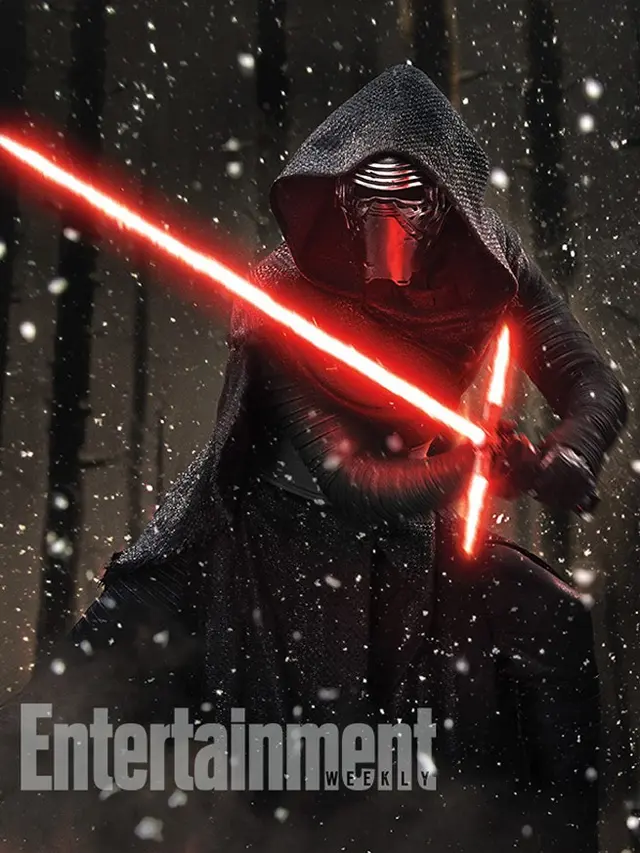 Rumors that Kylo Ren might be the descendant of an Original Trilogy character or characters will pick up steam now that the EW article confirms with J.J. Abrams that neither Kylo nor Ren are the character's real name. "Ren" comes from what Abrams refers to as the Knights of Ren that Kylo, which stands for "Ruler," was once a part of. Let your mind run wild with those possibilities.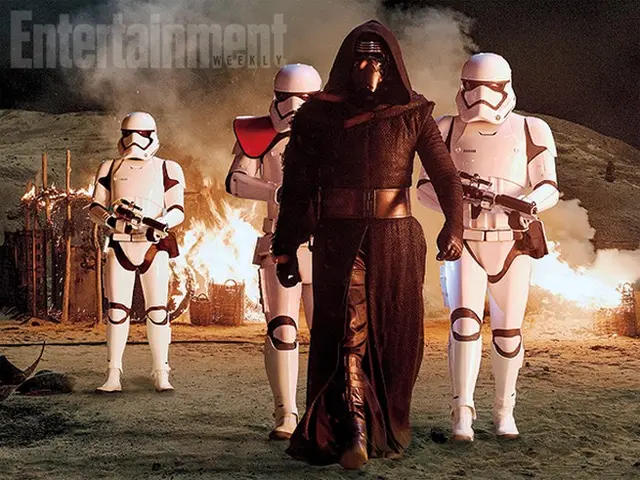 Ren and his stormtroopers lay waste to a small Jakku village at the beginning of the movie. I relate this scene to the death of Owen and Beru, only this time we'll get to see the Stormtroopers attack these poor folks as Ren presumably searches for Luke Skywalker's lightsaber.
Gwendoline Christie looks stunning as Captain Phasma. I can't wait to hear what she sounds like. Assuming the character talks at all.
Co-writers J.J. Abrams and Lawrence Kasdan look over the red-paged Star Wars: The Force Awakens screenplay. EW confirms that they're sitting on the First Order Starkiller set, confirming rumors that the snow base seen in the Korean TV spot is indeed home to a massive weapon called the Starkiller.
Dashing Resistance pilot Poe Dameron (Oscar Isaac) walks away from his black X-Wing fighter while a Gonk droid meanders about. J.J. Abrams confirmed with EW that there's a reason the X-Wing is black and we'll have to wait to find out what that is. The prevailing theory is that Poe's ship is able to cloak and go invisible.
We know these droids hanging out in the Resistance command center. R2-D2 is back and looking virtually identical to when we last saw him 30 years prior. C-3PO, however, has himself an oddly colored red arm. Hopefully we find out why.