Keanu Review: Kitty In The Hood
The comedy duo Key & Peele once had the funniest show on Comedy Central. Their irreverent brand of sketch comedy, usually with the mega-talented Keegan-Michael Key and Jordan Peele playing most, if not all of the characters, had more hits than misses in their very brief five season run. Some sketches even transcended the show becoming YouTube sensations with millions of additional views. Now Key & Peele have transitioned from the small screen to the big screen in the new film, Keanu.
Keanu follows the story of Rell (Peele) and Clarence (Key), two cousins living in Los Angeles. Clarence is a straight-edged family man who loves listening to George Michael while driving his mini-van, while Rell is stoner artist who is in the midst of a bad break up with his girlfriend. One day a small, adorable kitten appears at Rell's door and the furry friend changes the lovelorn artists life, bringing him out of his funk and  giving him hope for the future. Rell names the kitty Keanu and they begin to bond as only a man and cat can.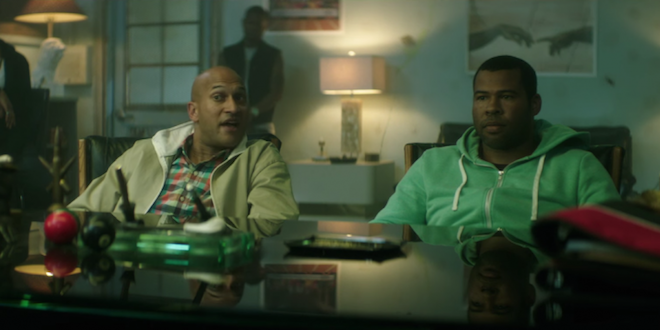 Unbeknownst to Rell, that kitten once belonged to an L.A. drug kingpin who was violently murdered by the mysterious and ultra-violent Allentown Boys (also played by Key and Peele), and the feline escaped the carnage before finding shelter with Rell. After Clarence's family goes out of town, giving him some needed "me time," Clarence and Rell go see a movie and when they return, they find that Rell's house had been broken into and Keanu is missing. Now the two men have to track down the kitty, which leads them into the Los Angeles drug underworld led by Cheddar (Method Man), and his crew, and the cousins become involved in a wild night of drug deals and George Michael sing-a-longs all in hopes of getting Keanu back.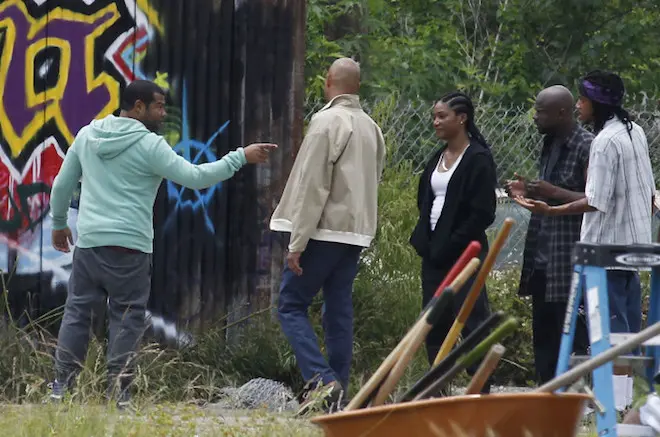 The comedy in Keanu comes from watching Rell and Clarence go hard in attempts to show Cheddar that they are the badasses they say they are to get Keanu back. The dialogue and delivery is written and performed by two masters of the craft. Key and Peele lose themselves as two thugs, all while keeping to their true selves.
When Clarence introduces the crew, made up of Bud (Jason Mitchell), Trunk (Darrell Britt-Gibson), and Stitches (Jamar Malachi Neighbors) to the musical stylings of George Michael, explaining that Michael is "OG" having "disappeared" his one time partner, Andrew Ridgely (both of WHAM! fame) who hasn't been seen in years, the drug-dealers hang on his every word — and the audience laughs and laughs.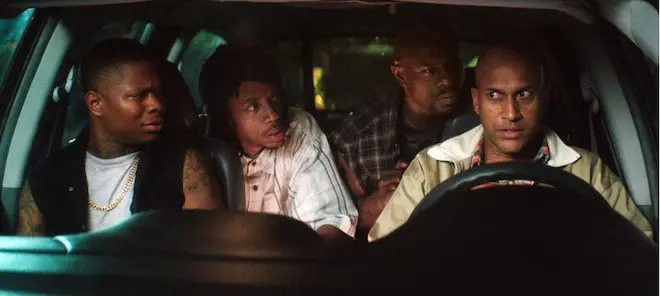 This happens as Rell and another of Cheddar's lieutenants, Hi-C (Tiffany Haddish) are running a drug deal in the Hollywood Hills, and Rell has to constantly prove to Hi-C that he's hardcore, while only wanting his kitten back. When things go awry with the deal, Rell understandably freaks out, and suddenly, the kitty-quest takes a dark turn.
And the star attraction — Keanu himself — is adorable, and seeing him (or them, reportedly seven different cats were used) in action sequences and gun fights also draws laughs.
Keanu is stuffed with a few celebrity cameos, and the story is pretty solid for an R-rated comedy. The laughs are plenty and the riffs on street gangs, gun violence, and the drug trade, through the eyes of two very suburban cousins trying to get their cat back makes for some fun situations.
As a first film from Key & Peele (each has had roles in other films, but this is a true Key & Peele-branded event), there is promise here, and I, for one, look forward to see what they will do next. If they can turn a cute kitty into a gangsta, essentially the sky is the limit going forward for comedic hijinks.
Keanu is rated R and is in theaters now.
TheHDRoom may be paid a small commission for any services or products ordered through select links on this page.