'Avengers: Infinity War' Review: The Road Ends Here
In the 10 year build up to Avengers: Infinity War, the common refrain was that all roads were leading to this momentous coming together of all the Marvel Studios heroes to face the mad Titan, Thanos. It's safe to say the road has officially ended. What began as an inside-joke-for-fans stinger on 2008's Iron Man hinting at the "Avengers Initiative," to the revelation of Thanos in the mid-credits scene in 2012's The Avengers, to the introduction of the "a-hole" Guardians of the Galaxy, which opened up the Marvel Cosmic universe, to a groundbreaking inter-studio deal that brought Spider-Man home, after a full decade and 18 films, the puzzle is now complete.
Avengers: Infinity War is monumental in that it brings together almost every costumed hero from all 18 previous films and mashes them together to face the Thanos (Josh Brolin) threat. There are some great call backs to various classic comic book moments, and not just from the iconic Infinity Gauntlet story by Jim Starlin, George Perez, and Ron Lim. In fact, the film, written by Christopher Markus and Stephen McFeely, deviates from the comic story to a satisfying degree and makes its own mark in the greater tapestry of the Infinity legend.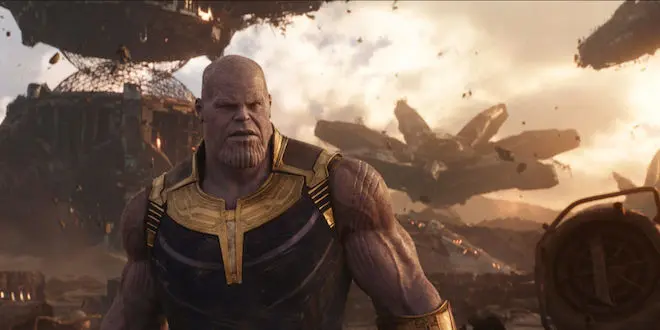 In many ways, Avengers: Infinity War is Thanos' film. He is burdened with glorious purpose, and has many layers to his character. And somehow, Brolin is able to convey some pretty strong emotion under all that CGI and makeup. I absolutely love Thanos here, and his motivations, while brutal, make sense — sense in the same way that the Empire in the Star Wars films also had some good qualities. I'm not gonna lie; by the end, I found myself rooting for Thanos to complete his mission. It's not because I'm a terrible person; it's because Brolin portrayed the character so well that I fell under his spell and I wanted him to succeed.
I won't bother breaking down any of the scenes or set-ups in Avengers: Infinity War, as I want to keep this review as spoiler free as possible, and because so much happens and even the smallest revelation could be considered a spoiler. Most of what follows can be derived from the previous films, and various commercials and trailers, so feel free to read on without fear.
Thanos (Brolin) has been seeking the six Infinity Stones, magical gems that were created during the big bang, and if brought together, could give the wielder unlimited power. Thanos has also tasked himself to wipe out half of the population in the entire universe, and using the armies of the Chitauri (last seen in the Battle of New York at the end of the first Avengers film) just isn't doing the job quick enough. By collecting the stones and placing them in a specially forged gauntlet, Thanos believes he can complete his job of bringing balance to the universe by wiping out half of it with the snap of his fingers.
Standing in his way are the various heroes of the Marvel universe, including the fractured Avengers and their allies, (Robert Downey, Jr., Chris Evans, Scarlett Johansson, Mark Ruffalo, Chris Hemsworth, Don Cheadle, Paul Bettany, Anthony Mackie, Sebastian Stan, and Elizabeth Olsen), Spider-Man (Tom Holland), Doctor Strange (Benedict Cumberbatch), Black Panther (Chadwick Boseman) and his various Wakandan warriors (Danai Gurira, Letitia Wright, and Winston Duke), and the Guardians of the Galaxy (Chris Pratt, Zoe Saldana, Dave Bautista, Pom Klementieff, and the voices of Vin Diesel and Bradley Cooper).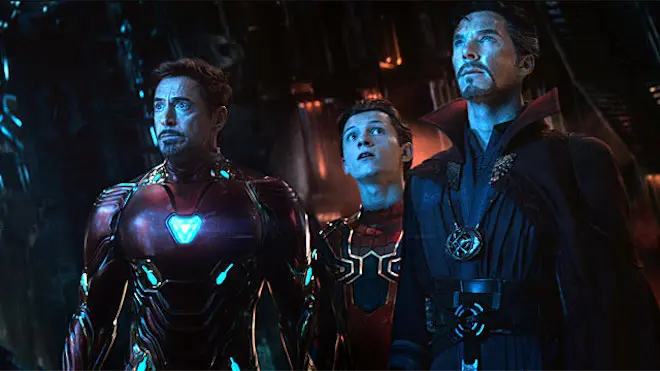 The massive number of heroes team up in various groupings — for good or bad — and battle Thanos and his Black Guard (Carrie Coon, Tom Vaughn-Lawlor, Michale James Shaw, and Terry Notary) all across the universe, which leads to Thanos collecting the final stones to complete his Infinity Gauntlet. This sets the stage for epic battles in Wakanda and on Titan, with the fate of the universe itself at stake. Heady stuff.
The huge cast of actors are all masterfully utilized by directors Joe and Anthony Russo, who make sure to give most of the principals enough screen time, along with some character-specific dramatic moments, to develop the story and the key plot points to keep the narrative moving forward, sometimes at a breakneck speed. And it works. It all works. Six years ago, we applauded Joss Whedon for ably juggling five characters in The Avengers. After Infinity War, Whedon is left holding the Russos' beer.
Not everything is resolved here, and "Avengers 4" has already been announced for next summer, which should bring a conclusion to the events in Avengers: Infinity War. Josh Brolin has created an incredible character in Thanos, and Joe and Anthony Russo have done something that has never been done before in bringing together so many unique characters into one epic conflict. This film is the absolute culmination of everything that has come before and the wait has been worth it.
Avengers: Infinity War is the comic book movie that I've always dreamed of, and is the best film of this genre, without debate. One thing is for certain: this universe is a much different place when the credits roll, and the road that we've all been traveling on for 10 years has come to a definitive end.
Avengers: Infinity War is rated PG-13 and is in theaters worldwide on April 27. There is one post-credits scene at the very end, so be sure to stay.
TheHDRoom may be paid a small commission for any services or products ordered through select links on this page.