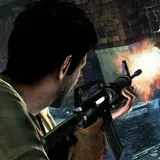 Uncharted 2: Among Thieves for PS3 is taking the series in a logical direction with the introduction of multiplayer on and offline gameplay.
To compliment the introduction of multiplayer gameplay, Sony and Naughty Dog have passed along screenshots snapped from three of the modes that will be available with the game at launch.
In cooperative play you'll team up with not one but two of your friends to form a band of three players who can fight together through co-op specific missions. These missions will supposedly take only a few hours to complete but the door is open for expansion via DLC in the future.
Plunder, as well as Death Match, are designed to behave as they sound. In Plunder you'll need to find the loot and return it to base before being taken out. Death Match is a free-for-all where itchy trigger fingers are encouraged.
Expect much more Uncharted 2 news and revelations as E3 approaches.