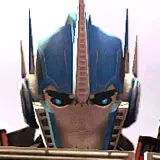 Transformers Prime is now confirmed as a launch window game for Nintendo Wii U and will be available to purchase somewhere between November 18 and March 31, 2013.
Activision has passed along some new game assets to share that accompany the launch window announcement. First up is the game's box art whose very existence tells us the game will likely be available in stores before Christmas.
Next are a series of character renders taken directly from the digital character renders created by Polygon Pictures, Inc. for the CGI-animated show the game is based on. Below you will find high resolution renders of Arcee, Bulkhead, Bumblebee, Megatron, Optimus Prime, Soundwave and Starscream.
Following the renders are a series of screenshots taken directly from the game play. Pay special attention to the final screen that depicts Optimus Prime taking on an enormous Decepticon foe, Thunderwing. Despite the size disadvantage, Optimus seems to be getting the better of his ginormous opponent.
Transformers Prime will first be available on Nintendo Wii, 3DS and DS on October 30.