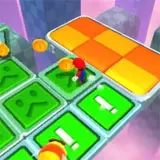 Mario will get to wear the Tanooki suit again on November 13 when Nintendo will release Super Mario 3D Land exclusively on 3DS.
Super Mario 3D Land is an all-new platforming adventure for Mario. In addition to the Tanooki suit, you can expect to come across Goombas with tails, a Piranha Plant that spits ink, and stacks of Goombas to go up against.
Though the 3D mode in Super Mario 3D Land is optional land not recommended for anyone under the age of 7, Nintendo is promoting an advantage to using this mode. Apparently you'll be able to better judge jumping distances when playing in 3D, which could come in handy considering all the jumping the new screens (click the thumbnails to enlarge), box art and trailer below reveal.
Click here to pre-order Super Mario 3D Land for Nintendo 3DS at Amazon.com.