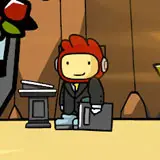 Scribblenauts Unlimited is the upcoming new installment in developer 5th Cell's popular puzzle franchise and also a Wii U launch title. If you have never played a Scribblenauts game before then all you need to know is this: a puzzle will be presented and whatever words you write will come to life to help solve that puzzle.
With Scribblenauts Unlimited, 5th Cell is aiming to break all limits and leave nothing on the table. Players can now create their own original objects, customize them with unique properties, and then share them with friends. By chance the player thinks up a word the game cannot create, they can create it themselves and put it into play.
The Wii U version of Scribblenauts Unlimited will allow a second player with a Wii Remote to jump in and play cooperatively with player one on the Wii U GamePad. That GamePad will work seamlessly with what's on-screen to allow players to sketch, draw and manage their objects stored in Maxwell's Magic Backpack.
Below are recently released Wii U screenshots, an unlimited objects editor trailer, and the Wii U box art for Scribblenauts Unlimited.
Look for Scribblenauts Unlimited on Wii U and 3DS on or around November 18, 2012.
Click here to pre-order Scribblenauts Unlimited on Wii U at Amazon.com.