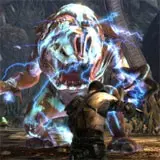 Looking for a little more original trilogy in your Force Unleashed experience? How about a reason to play again despite already beating the game?
LucasArts today unveiled a pair of new downloadable content packs coming to Star Wars: The Force Unleashed on Xbox 360 and Playstation 3 this fall.
The first pack introduces new character "skins" that can be utilized during the single-player campaign: Luke Skywalker, Obi-Wan Kenobi, Ki-Adi-Mundi and Kit Fisto. We don't know what age the Obi-Wan is, but the screenshot below shows Luke during his Return of the Jedi days.
The second pack will include a new single-player level set inside the Jedi Temple ruins. Here the secret apprentice searches for information on his father and "confronts his inner demons."
The first pack is expected to arrive shortly while the second is lined up for later this year. Additionally, future packs will be distributed into next year.
Pricing and exact release dates are not yet available.