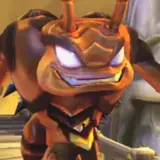 Skylanders Giants is only three weeks away from delivering a new Giant-sized Skylanders experience and a slew of new toys to chase after.
As you may have already read out in our Skylanders Giants review, developer Toys for Bob has packed numerous new features into this full-fledged sequel in a surprisingly short period of time. President and Creative Director Paul Reiche, Animation Director Paul Yan, Toy and Character Director I-Wei Huang, and Chief of Staff Alex Ness discuss the new goodies in the brand new 'What's New in Skylanders Giants' four-minute promotional reel available to watch below.
Also new this morning are 10 screenshots from the Playstation 3 and Xbox 360 version of Skylanders Giants. Several levels in the game such as the Oracle Trials, Glacier Gully, Rumbletown and Wilikin Village are repsented in the screens, as well as characters like Terrafin Series 2, Fright Rider and Bouncer, amongst others.
Click on any of the Skylanders Giants screenshot thumbnails below for a high resolution look.
Shop for the Skylanders Giants Portal Owners Pack, Starter Pack and figures at Amazon.com.