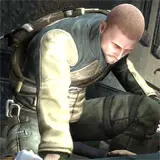 Fresh from the Tokyo Game Show comes a handful of new screenshots snapped from Infamous, Sony's upcoming Playstation 3 exclusive developed by Sucker Punch.
Included in the batch is a piece of concept art for the "Thunderdrop" attack, as well as several scenes snapped from the demo given at TGS. People are tossed around, cars elevated and an electricity station plays host to an electrically charged battle.
The key to Infamous building positive buzz moving forward will stem from developer Sucker Punch's ability to convince everyone a hero who can harness electricity and nothing else will have enough diverse attacks and gameplay tactics to not become redundant or stale. So far they, and Sony, have been slow to show the goods. At least there's still a long ways to go until release.
If you look closely at these in-game screens a wealth of information about the environment's destructibility and pedestrian A.I. is revealed. These touches will surely help push the game's appeal.
Sony and Sucker Punch hope to put Infamous on store shelves sometime in late 2009.