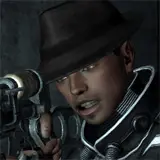 Bethesda Softworks passed along a quartet of new screenshots for this month's Fallout: New Vegas DLC pack Old World Blues, the third such pack to be released for the game.
In Old World Blues, players will travel to the 'Big Empty' which has long been assumed to be an area incapable of sustaining life. Upon arrival they'll discover quite the opposite as the new screens reveal.
The Fallout: New Vegas Old World Blues DLC pack will be available July 19 for Xbox 360, PS3 and via Steam for the PC. Pricing is still unknown but should be announced within the next week or so.