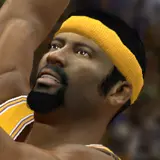 2K Sports has delivered six new NBA Legends high-res screenshots from NBA 2K13.
Making his 2K debut as a historic player is Allen Iverson, seen below for the first time. Joining him on the Legends roster and screenshots below are Wilt Chamberlain of the Los Angeles Lakers , Shawn Kemp of the Seattle Supersonics, Shaquille O'Neal of the Orlando Magic, Alonzo Mourning of the Charlotte Hornets, and Scottie Pippen of the Chicago Bulls.
NBA 2K13 makes its way to stores on October 2, 2012 for Xbox 360, Playstation 3, Wii, PC and Sony PSP.
Click here to pre-order NBA 2K13 on the platform of your choice at Amazon.com.