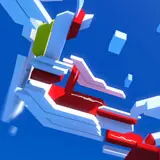 EA and DICE have announced a new Time Trial downloadable content pack is coming to Playstation 3 and Xbox 360 in late January.
Instead of being set in the city with buildings and cops, the new Time Trials are on all-new abstract "geometric" maps that wil put your Mirror's Edge skills to the test.
The pack will cost $10 for Playstation 3 via the Playstation Network or 800 Microsoft Point for Xbox 360 via Xbox Live Marketplace.
As an added bonus for Playstation 3 owners, an additional map will be available to download for free. This map will be, at least for the time being, exclusive to PS3 and not available for Xbox 360 owners.
With any luck we'll have some new DLC Time Trial codes to offer up for giveaway sometime in January. Until then, check out the all-new aesthetic style DICE has incorporate for the Time Trial DLC via six high-res screenshots below.