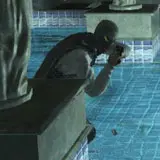 We've got five brand new screenshots from the Xbox 360 and Playstation 3 version of Activision Blizzard's Quantum of Solace released in conjunction with the Leipzig Games Convention.
In the game, players will traverse through situations from both Quantum of Solace and Casino Royale in addition to all-new levels from the minds of developer Treyarch.
Quantum of Solace shares the same engine as Call of Duty 4: Modern Warfare, instantly giving it a boost in terms of graphics, movement, lighting and environmental effects.
Online play against friends will also figure into Quantum of Solace, though details have yet to be released.
Look for Quantum of Solace on store shelves timed with the film's release.