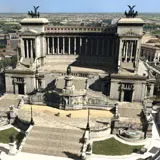 It's hard to believe Gran Turismo 5 for PS3 finally has a firm release date of November 2, 2010. Likewise it's ironic to realize that arguably Sony's marquee PS3 franchise gets a new entry a mere two days before Microsoft unleashes Kinect for Xbox 360.
This evening I have for you the first of several Gran Turismo 5 assets updates after Sony provided the media with a bevy of screens and video stemming from the game's E3 reveal this past week. Below you'll find a silky smooth high definition Gran Turismo 5 trailer, followed by 8 screenshots that show off the majestic city of Rome and a few cars including the Camaro and Challenger.
The beauty of Gran Turismo assets is Polyphony Digital's graphics never disappoint. Enjoy the HD Gran Turismo 5 trailer, then click the screenshot thumbnails for the nice high resolution versions.