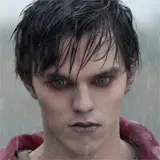 On the surface, Warm Bodies looks and sounds terrible. It is a love story between a live girl and an undead boy told from the zombie's point of view. The number of conventions broke with that sentence alone is alarming. But in actuality, Warm Bodies ends up working, and working very well.
Warm Bodies, written and directed by Jonathan Levine (50/50, The Wackness), based off Issac Marion's novel of the same name, is the story of R (Nicholas Hoult, X-Men: First Class), a twenty-something zombie who is constantly questioning his existence. He lives in an abandoned airport with a horde of other zombies and an army of Bonies, which are zombies that have decayed to the point of frightening aggression. Both faction of undead live together, as the Bonies only attack things that have a heartbeat.
From the very start, we learn that R is different. He has built a home for himself in a jumbo jetliner that sits out on the tarmac, and he likes to collect things and listen to records, all with the slow, shambling zombie-esque style. R's best friend is M (Rob Corddry), who he meets and grunts with daily at the airport bar.
One day on a forage for food (meaning live human flesh), R, M, and a few other zombies meet up with a group of human survivors, led by Perry (Dave Franco) and Julie (Teresa Palmer), who are looking for medicines at a pharmacy on the command of Julie's father, Grigio (John Malkovich). After a brief fight, R kills Perry (in self-defense, if you want to go there) and saves Julie by rubbing his infected, rotting blood on her face so the other zombies think she is one of their own. He takes her back to his lair for her protection, and they begin a friendship.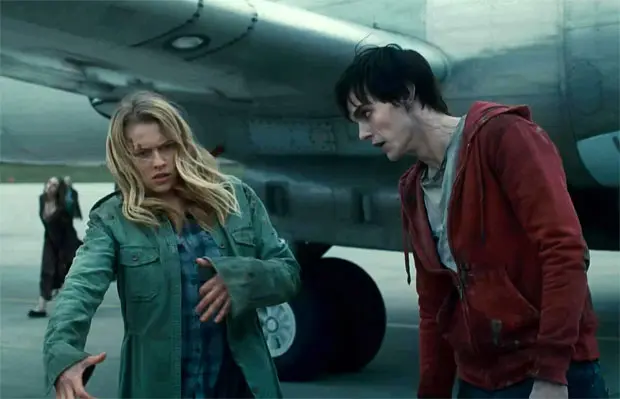 The thing is, as terrible and unorthodox as all of that sounds, it works. It works because Levine and Marion have crafted a believable scenario, along with mythos that establish the zombie hierarchy and rules for living in this post-apocalyptic world. Nothing is ever said how–or why the apocalypse happened. Warm Bodies just comes in five years after and tells its story.
The movie starts strong with Hoult narrating R's life and the laughs are plentiful. R's inner dialogue is clear and free of grunts, groans and slurs. By the time we get to Julie and the humans, we are mostly on the side of the zombies and see the humans as the "bad guys."
The performances are good throughout, especially from Corddry as M, and Malkovich as the authoritarian Grigio. The film is shot in such a way that it just screams "this world is dead" with its bleak atmosphere.
What really makes Warm Bodies tick is the soundtrack. From well-known acts such as Guns 'n Roses, Bob Dylan, and Bruce Springsteen, to up and coming, or lesser known bands such as M83, Bon Iver, and The National, each song works to set a scene or a particular mood. In fact, director Levine is definitely channeling early Cameron Crowe here with his music selection.
Warm Bodies is funny, sometimes laugh-out-loud funny, but in other times it gets tense and sometimes scary. There is never enough of either laughs or scares, which actually works against it, but not to the point that the entire production suffers.
Midway through the film, when it seems that this is going to turn into an improbable love story, Levine and Marion are able to set up a scenario that makes it work. We are conditioned with the onslaught of undead/zombie material that is everywhere from TV to music, to movies, to books and even children's books, that we can't let ourselves see that maybe, in the right circumstance, the undead could somehow come back to life, and what better way to set that up than with a love story. After all, isn't love eternal?
Warm Bodies surprised me, and I left the theater entertained, which going in I thought would be impossible with its ridiculous scenario. The performances and great writing really help the movie escape its seemingly dumb initial concept, and the well-crafted soundtrack truly drives the film into another territory.
Warm Bodies is rated PG-13 and opens nationwide on February 1, 2013.