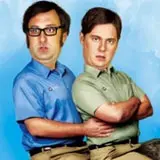 It seems the world is made up of two kinds of people. There are those that absolutely love and adore Tim Heidecker and Eric Wareheim, and those that think their brand of "anti-comedy" is awful, unfunny and, in some instances, a preview of what hell will be like.
I myself am the former. Being as such, Tim and Eric's Billion Dollar Movie was assuredly made for me. Well, most of it, anyways.
It's easy to have been skeptical from the get go as to how Tim and Eric would pull off taking their 15 minute long TV show Tim and Eric Awesome Show, Great Job! and making an entire movie out of their personal brand of comedy. The secret is that Billion Dollar Movie actually has a plot.
The movie begins, after a series of short quick bits, with a fake film that Tim and Eric have made with a billion dollars given to them by the Schlaaang Corporation. Due to vast overspending on their part, the billion dollars that was given to them afforded them to make a movie only fifteen minutes long starring a Johnny Depp impersonator wearing a suit made entirely of diamonds. The Schlaaang Corporation are rightfully upset and demand Tim and Eric repay them the money that was leant them, or their on their way to jail. Having run out of ideas, the pair happen upon a random commercial offering a billion dollars for helping renovate and reopen the S'wallow Valley Mall.
And there you have it. As far as plots go, that's pretty cut and dry. Thankfully, Tim and Eric infuse the story with their comedic style that dwells in awkward and sometimes surreal moments. They also have a penchant for going beyond gross, and this film may have their utmost grossest moments. From bathing each other's "Hollywood" get-ups away to the discovery of what SHRIM really is, this film sets a new high water mark in gross and I love every bit of it.
That said, I can't help but feel like Billion Dollar Movie is a bit subdued. I don't know if it was a conscious effort to not be as weird, frantic and sporadic as the show is, or if the pair sadly didn't have as much control over the final product. Several of the extended and deleted scenes on the disc show a bit more delving into the absurd, which makes me wonder even more about whose say the final product was. With the movie starting off with lots of quick bits, I was excited at the possibilities of these carrying on throughout the film. However, once the plot gets going the film follows it fairly straightforwardly, save for a few "Know Your Movie Themes" bits here and there.
There are quite a few cameos throughout the film utilized to varying degrees of success. Zach Galifianakis, Will Ferrell, John C. Reilly, Will Forte and William Atherton all contribute supporting roles amidst a host of Tim and Eric regulars. Twin Peaks star Ray Wise turns in my favorite performance as a doctor specializing in the healing powers of SHRIM. Oh, and Jeff Goldblum as Chef Goldblum might be the greatest thing ever.
High Def Presentation
This may come as shock to many of you, but Tim and Eric's Billion Dollar Movie looks phenomenal! Coming from a show that prides and flourishes in its low-fi, VHS like presentation, it was a complete surprise to see just how good this film looks.
The film was shot on with RED ONE cameras and comes to Blu-ray a 1080p MPEG-4 AVC encode that is nearly pristine with very little in the way of noise or other detriments. Colors, from the opening fake film to Tim and Eric's fake tans, pop and have a life to them and there is lots of fine detail throughout. Keeping true to the show, there are a few instances of that VHS quality, but that's merely the film and not the transfer itself.
Coming in equally as good, if not better, is the DTS-HD Master Audio 5.1 track. Levels are perfect throughout, with dialogue being crisp, clear and centered. The surrounds are utilized wonderfully and really adds to the ambiance of the abandoned mall setting as well as making the action scenes immersive. The soundtrack comes through perfect throughout the film and is never overpowering.
Beyond the Feature
To go along with the impressive video and audio presentations, Tim and Eric's Billion Dollar Movie has a surprisingly decent set of extras, nearly all in HD. Notable within the extras is the Feature Length Commentary with Tim and Eric. Much to my surprise, the duo play the commentary fairly straight, offering up the usual BTS trivia and trials with turning their 15 minute show into a full length film.
The Deleted and Extended Scenes are also worth a look, as many of them would have added a bit more absurdity to the film. Along with various featurettes and interviews, there's also the SHRIM Screensaver. You'll have to watch the film to discover what SHRIM is, but rest assured this screensaver is 100% nightmare fuel and I couldn't love it more.
Below is a complete listing of all special features included on the disc.
Audio Commentary with Tim Heidecker & Eric Wareheim
Deleted Scenes (HD, 9 min)
Extended Scenes (HD, 18 min)
Good Evening S'Wallow Valley (HD, 8 min)
Interview with Tim and Eric (HD, 22 min)
HDNet: A Look at Tim & Eric's Billion Dollar Movie (HD, 4 min)
SHRIM Dance Screensaver (HD)
Posters (HD)
Photo Gallery (HD)
Theatrical Greenband Trailer (HD, 2 min)
Theatrical Redband Trailer (HD, 2 min)
Also From Magnolia Home Entertainment (HD, 9 min)
This release also comes with a DVD and Digital Download of the film.
Despite many naysayers, I feel that Tim and Eric succeeded with Billion Dollar Movie. It's a welcome addition to their extensive body of work and feels like the next natural progression. It might be hard to believe, but I do feel the movie is often times not absurd enough and too much a slave to the plot. Granted, that plot does include an abandoned mall with a wolf that haunts the pizza place. All in all, I liked the film a lot. Taking into account the PQ, AQ and supplements this is a pretty top notch release from Magnolia. I'm not going to tell you not to watch it if you aren't a fan, but I will say go in with an open mind and be prepared for things you'll never unsee.
– Matt Hardeman
Click here to shop for Tim and Eric's Billion Dollar Movie on Blu-ray for a discounted price at Amazon.com (May 8, 2012 release date).