'The Witches' Review: Don't Take Candy From Strangers
Roald Dahl really understood children. He was able to capture the idea of childhood, and the struggles with growing up, in such a way that his books have become classics. One constant theme in his works is that it is adults who are generally evil, and the child themselves are not just the victim, but also the hero as they overcome that evil. In the new film, The Witches, that theme returns, as, in Dahl's world, witches hate children and want to destroy them all, and only the protagonist, a little boy, can save the world from their evil.
The Witches updates the book (and the previous film adaption), moving the story from Europe to America — Chicago and Alabama to be more specific, with the unnamed boy (Jahzir Bruno) moving into his grandmother's (Octavia Spencer) house after losing his parents in a car accident.
The boy finds a friend in a pet mouse, Daisy, and when he is accosted by a mysterious woman in a store trying to offer him candy, Grandmother tells him a tale about how witches seduce children with candy and then turn them into animals to be easily killed. Did I mention this is a family film?
The grandmother takes her grandson to a fancy hotel to get away from the witch, and they stumble into a veritable witch convention ran by the Grand High Witch (Anne Hathaway), who wants to use "Formula 86" to turn all the world's children into mice, which will make it easier for the witches to squish them.
The boy and his friend, Bruno (Codie-Lei Eastick), get turned into mice and they discover Daisy (Kristin Chenowith) was also once a child. The three mice then seek revenge on the witches with a little help from Grandma.
The mythology of the story says that witches have certain tells to differentiate them from real women. This includes wearing long gloves (to cover their clawed hands), big mouths (full of sharp teeth) and they always wear some kind of hat or wig, as witches are bald underneath. And witches always try to give candy or sweets to children. This is all highlighted to great effect in the film, as these are not some hokey, broom-riding villains, but are true monsters that could be anywhere in the world right now.
The Witches is co-written and directed by Robert Zemeckis, and he brings the world to life in satisfying ways. The film looks and feels much like a family film, but the influence of co-writer Guillermo Del Toro is also felt, as when unmasked, the witches are grotesque monsters that made me, a grown man, squirm. The last member of the writing team was Kenya Barris (Girls Trip, TV's Black-ish), who brings the touching and poignant familial sensibilities to the story.
The production dream team continues with Alfonso Cuaron serving as a producer, and Alan Silvestri creating the musical score. With this much award-winning talent, The Witches was bound to be a wonder, and it does not disappoint.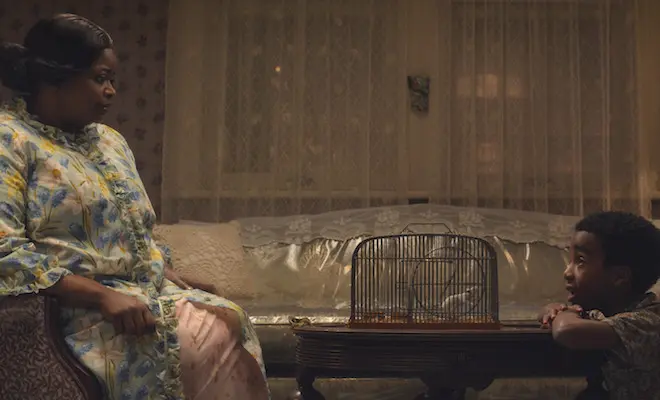 The performances are near perfect, with Anne Hathaway obviously having a wonderful time as the Grand High Witch. She's over the top when she needs to be, and is absolutely frightening in some scenes. Octavia Spencer plays the grandma in such a way that I wanted to sit down at her feet and let her tell me stories. Jahzir Bruno carries the film with his sense of innocence — even after going through such a traumatic event with his parents, and Chris Rock delivers as the film's narrator.
It's easy to call The Witches a perfect film for the Halloween season, but in reality, it is almost timeless. Zemeckis has that unique ability to make films for all seasons, especially when children are involved, and this film is no different. This dream team of filmmakers, actors, and writers working with a Roald Dahl story pays off, and it is a sweet confection for viewers of all ages — just beware of the witches.
The Witches is rated PG and premieres on HBOMax on October 22.
TheHDRoom may be paid a small commission for any services or products ordered through select links on this page.