Terrence Malick has given us some powerful if infrequent films over the years. His films are a rare and beautiful experience each and every time. The newest and boldest, The Tree of Life, pushes the boundaries of arthouse cinema. Taking cues from Kubrick and stretching them even further, Malick creates a deep and complicated story that will leave his fans people breathless, but alternately alienate the mainstream crowd.
The Tree of Life isn't so much a story as it is a character drama. Jack, the adult version played by Sean Penn, is the central growth and development in the story as we witness a journey through his mind. The influences of his parents, played by Brad Pitt and Jessica Chastain, are shown both through scenes of his childhood and gorgeous metaphors, splitting the movie in half.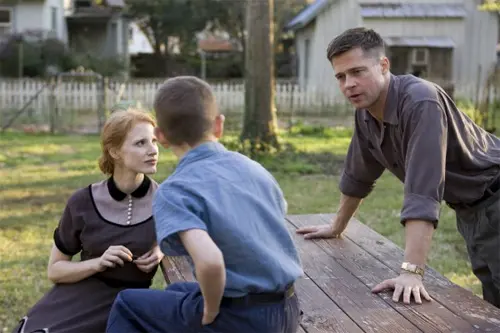 When I say The Tree of Life isn't a story, I mean it has no coherent beginning, middle or end. Instead it's a witness of maturity, loss of innocence, and growing up that everyone has to go through. Rather than depict these milestones in a straightforward way, Malick takes us on a journey. It's possible to make out a story in the Midwestern family, but it never shows you all the facts or what actually transpired, much like memory and influence. All of it builds up to a climax that's spiritual and gives deeper meaning to humanity as a whole.
The complicated, unclear narrative is woven around dramatic and real performances from Pitt, Chastain and Penn. Pitt gives his best performance yet as the typical Midwestern tough dad, while Chastain contrasts that with grace and beauty. Penn, despite having maybe two lines in the entire film, shows more emotion in the climax than most actors do their entire lives. The performances drive these characters forward, minimalist dialogue notwithstanding.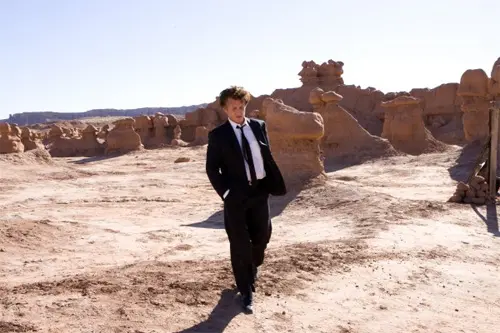 The Tree of Life may be one of the most complicated and least explained movies ever made. If you want to sit back and take your mind off things for a while then Malick's journey is not for you. The Tree of Life demands observation, analysis and repeat viewings. This is not your typical summer movie affair. It's an arthouse movie through and through, and if you don't know what that means, it's definitely not for you either.
If you can swallow the acquired taste, The Tree of Life is gorgeous in every meaning of the word. It's a beautiful and meaningful film, whereas you can mute it and get a wonderful screensaver starring Brad Pitt and Sean Penn. It's definitely not for everyone, but the best usually isn't.