Skylanders Trap Team Mirror of Mystery Adventure Pack Review
Neither Kaos nor the Doom Raiders are villains to contend with in Mirror of Mystery, the second Skylanders Trap Team Adventure Pack and only way to get Deja Vu until her single pack release at a later date. Mirror of Mystery is a clever if brief twist on the Skylanders convention that pits the forces of good against the former forces of good turned bad, including Master Evilon and a couple other familiar faces.
With allegiances turned on their head, Mirror of Mystery challenges Skylanders to take down Master Evilon while working with the troll army. This includes freeing the trolls from their prisons and even taking a ride in a troll mech to inflict some serious damage on Evilon's forces.
Mirror of Mystery features two villains to trap, one of which is easy to find and the other significantly harder. No Magic Traptanium Elemental gates are to be found so all areas of the chapter are accessible if you have already collected the wave 1 and wave 2 Trap Masters.
There's as much creativity pumped into this single-chapter concept than anything found in the core Skylanders Trap Team game, starting with a humorous Kaos cameo and concluding in an explosive vehicle-based final battle. The entire chapter is wholly fulfilling, though can be completed noticeably faster than the Nightmare Express Adventure Pack.
The Mirror of Mystery toy package includes the chapter piece with a lenticular sticker on the front that swaps back and forth from Eon to Evilon as you move it around. It's the first Adventure Pack piece with interactive play value for kids, and I hope it's not the last. Also included are the Rocket Ram item to pummel enemies of its choosing, and the very Toys for Bob-ish Tiki Speaky that hovers around attacking enemies in a passive manner.
On the figure front, Mirror of Mystery includes core Skylander Deja Vu who is exclusive to the Adventure Pack until her single pack release later on. She is quite powerful despite her diminutive appearance and should appeal to boys and girls alike.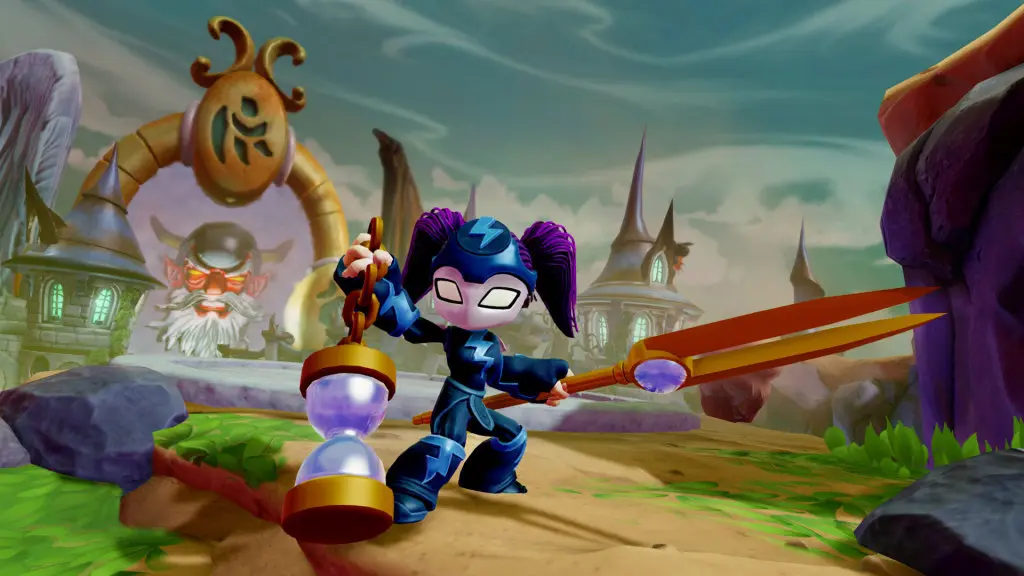 The Skylanders Trap Team Mirror of Mystery Adventure Pack was reviewed on PS4 and furnished by Activision for the purposes of this review. It is now available at retailers everywhere.
TheHDRoom may be paid a small commission for any services or products ordered through select links on this page.